Episode 4 - Digital Turbine Exchange
Welcome back to Kayzen's "Anatomy of an SDK" series, where we continue our in-depth review by dissecting and examining the capabilities of different SDK-based exchanges.
In this fourth installment, our focus shifts to the Digital Turbine Exchange (DT Exchange), as we examine its approach to rendering creative experience and its performance benchmarks. Prepare your analytical tools and let's dive into the intricate details!
Before we start on this journey understanding the Digital Turbine SDK, make sure you're up to speed with our previous articles. We delved into the creative rendering dynamics and performance metrics of the Unity Exchange, followed by a detailed dissection of the Vungle Exchanges, and succeeded by the review of the AppLovin Exchange (ALX)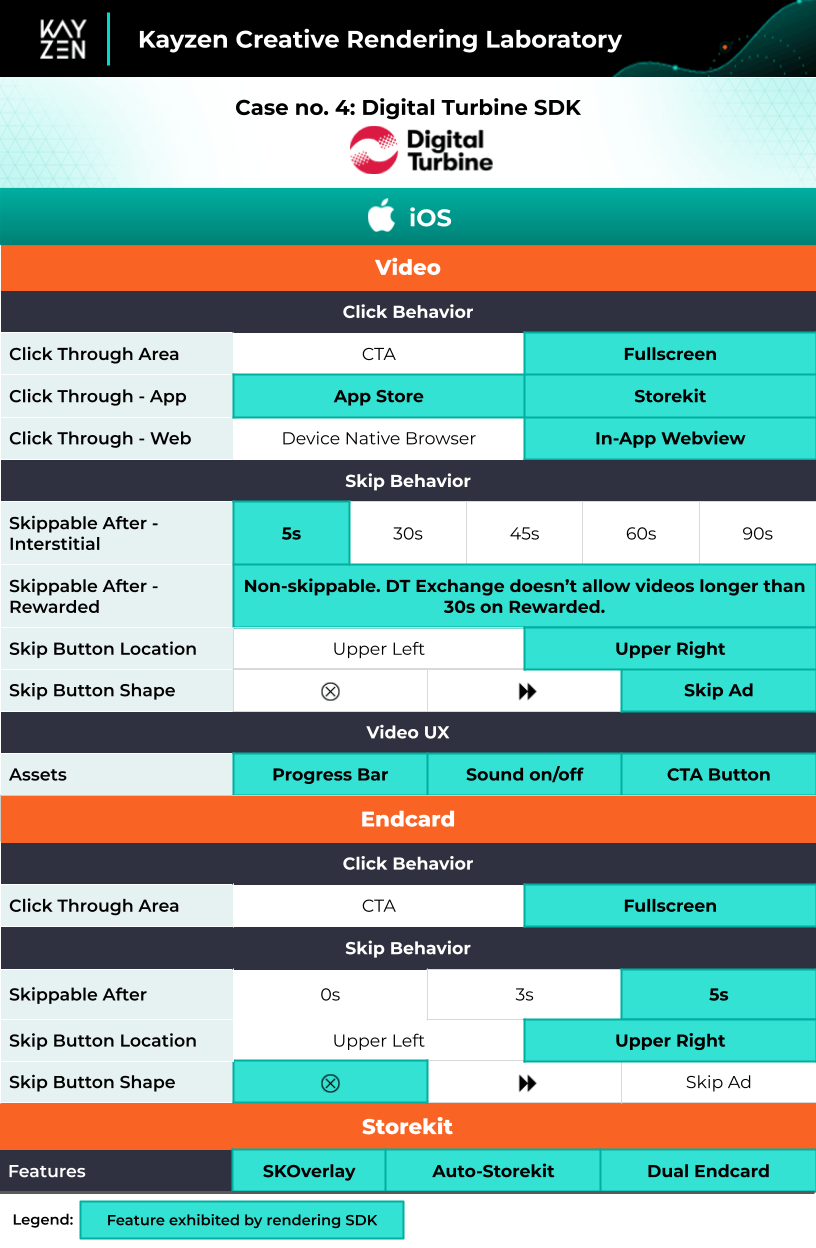 In June 2022, the DT Exchange introduced the FullScreen clickable area for both Interstitial and Rewarded Video formats.
Starting January 2023, the DT Exchange extended its support for SKOverlay on iOS. Notably, this implementation does not automatically fire clicks upon overlay display, thereby not impacting CTRs.
Progressing into late July 2023, DT Exchange initiated the rollout of an Auto-StoreKit feature on iOS. This update automatically triggers the Store View, whether upon skipping the video or video completion.
Introducing Dual Endcards to the Exchange Landscape
What is a Dual Endcard? Built from the advertised app bundle information found in the bid response, a Dual Endcard offers an enhanced creative experience. This experience presents an additional touchpoint that is introduced after the original endcard is closed. This supplementary endcard consists of the app icon, app name, and a CTA button.
The concept of Dual endcards is not entirely a novelty, ad networks such as AppLovin and Vungle have long leveraged them, with some even going as far as displaying Triple endcard experiences (Dual Endcard + Storeview). Surprisingly, none of these networks have extended the Dual Endcard experience to their exchange counterparts. This is where Digital Turbine stands as an exception, them pioneering this in the exchange landscape, even in the absence of a network counterpart.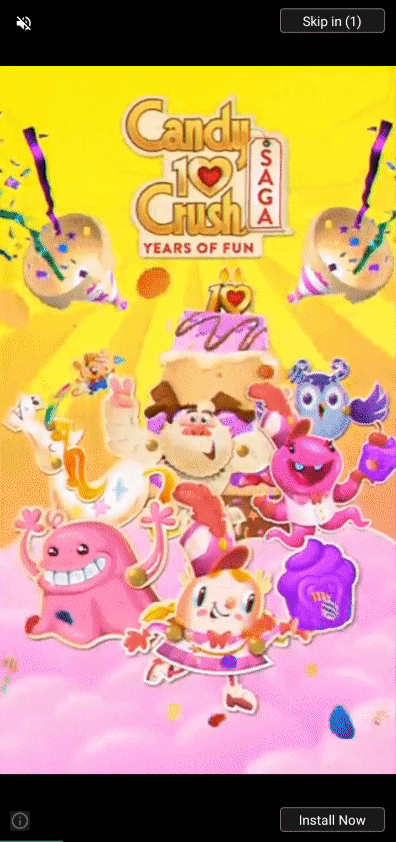 It is important to note that all recent iOS creative experiences introduced by DT Exchange including SKOverlay and Auto-StoreKit are controllable by DSPs. Dual Endcards are currently not controllable during rollout but will be once they are fully available across all DT Exchange supply. In other words, advertisers can control and determine when, and in certain instances, how to incorporate these elements within their bid response.
At Kayzen, we place Transparency and Control at the forefront of everything we do. We are committed to empowering both the industry and our customers, providing them with insights into the various programmatically available rendering experiences. Our ultimate goal? To empower them in maximizing the performance of their creative strategies, all while retaining complete control over their advertising endeavors. Don't hesitate to reach out to our team to discover how we can assist you with your programmatic needs.