Apple custom product pages is a new feature that allows advertisers to create different types and variations of "product pages" in the Apple store. The feature was announced in June 2021, with an official release a few months later in December. Since then, it has become one of the biggest news for the in-app marketing ecosystem. Today, more than a year after the release, we present a summary of how marketers have been using CPPs since its official release date and make a case for why programmatic and CPPs are a great symbiosis. 
CPPs offer a significant opportunity for mobile growth by allowing developers to highlight different features or content within an app using up to 35 product pages – meaning the app owner can customize the product page with content that is more relevant to specific audiences. 
To help you navigate into it and make the most out of this opportunity to generate ROAS in your campaigns, we have listed five use cases with examples of how you can use ad variations on the Kayzen platform based on custom product pages.
Introduction
The new IDFA loss era has forced advertisers to think outside the box and try new strategies that do not rely on device identifiers. CPP is the opportunity for app marketers to innovate as it enables better contextual marketing while maintaining consistent messaging and a seamless experience throughout the user acquisition funnel.
CPP allows you to:
Connect your UA campaign to a specific app store landing page matching the campaign's visuals, which can be a great way to boost your conversion rate and optimize ROAS. 
Target specific audiences with alternate app creatives and promotional text versions to improve user experience and conversion rates. 
One of the many positive things about CPP is that advertisers can use them in many different ways. This article lists five ideas to help you use Ad Variations based on Custom Product Pages.
1. Highlight features or benefits
Highlighting features or benefits according to the user's preference can effectively convert them to the app. You can use custom product pages to show a feature that will benefit a specific segment of your target audience on a single page. This is valuable for apps or games with multiple features as CPPs will direct target users to the page highlighting how the app will serve their specific needs. In this case, you can test new product features and show them to new or existing users.
Use case: Showcasing different features of the app.
Example: A yoga vs. running workout on a fitness app targeting yoga and running workout audience interests, aligning the ad creatives, respectively (see the image below for reference).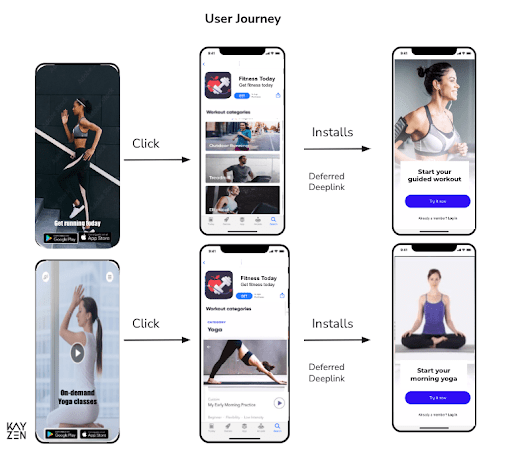 2. Content preferences
Similarly to highlighting a feature or a benefit, you can customize the app store listing custom product pages that promote one or more of the various contents you offer. This is specifically useful for apps that host a wide variety of content. CPPs can promote specific content to target audiences according to their preferences. Create more than one CPP for the same campaign to test which converts better.
Use case: Show different content to users with different intents.
Example: A user is interested in a muscle workout, while another is more interested in weight loss. You will target those users with different ads and CPPs according to their preferences. In that way, fitness apps might want to run one campaign for muscle gain and another for weight loss (see the image below for reference).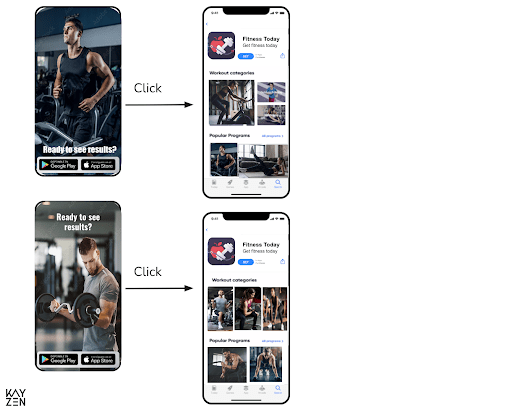 3. Promotion and seasonal events
Apps or games that run discount campaigns or other promotions can use CPPs to maximize the number of downloads. If you're running a seasonal campaign, you can use Kayzen's platform to quickly turn programmatic ads ON/OFF anytime in the self-serve UI with the click of a button.
Use Case: Create personalized landing pages with different offers, then measure the effect on your conversion rates.
Example: An advertiser creates a Black Friday Custom Product Page using specific scheduling on the ads level.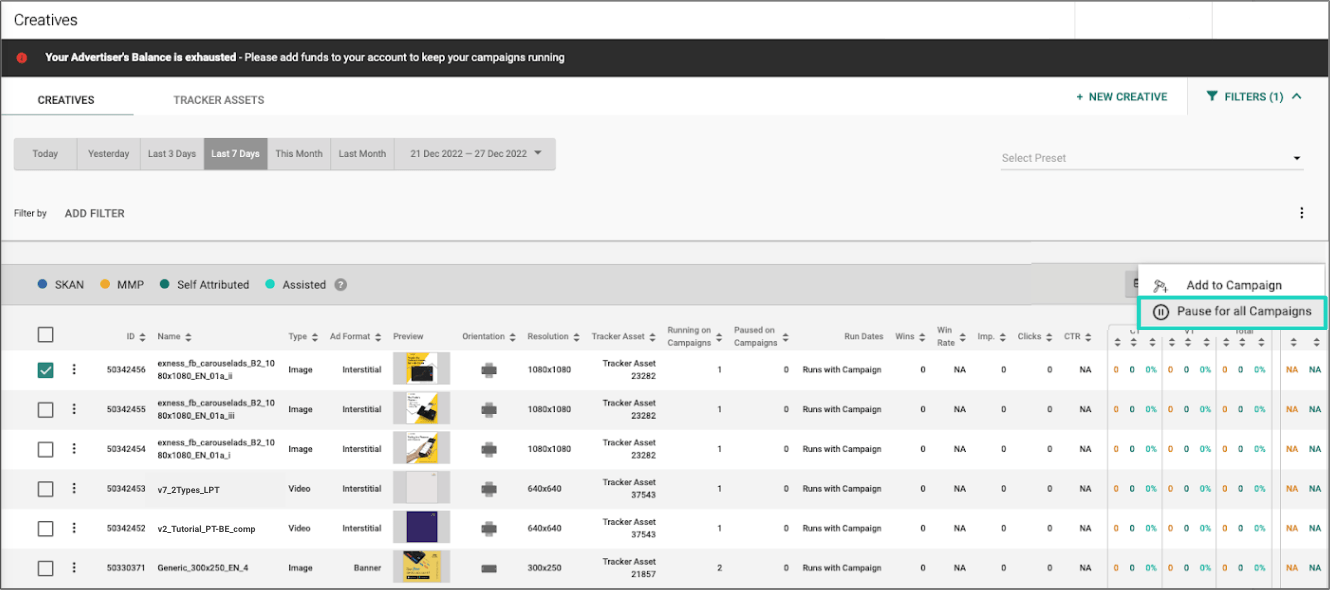 4. Demographics
When you run ad campaigns for different ages and genders, it is a good idea to customize your product pages with more precisely targeted messaging. You can align specific visual assets such as CPPs screenshots, promotional text, app previews, and messages according to your targeting demographics.
Through Kayzen's "app lists" feature, you can create lists of apps with a user base that falls into a specific demographic category and target those apps with tailored campaigns.
Example: A gaming app that provides various game video pages can highlight games that fit certain age groups. Suppose a male user is looking for a more complex game genre, such as RTS or Sandbox. Consequently, he should see a related game video page that matches his preference, unlike another user looking for a puzzle or party game, who should see another corresponding video page.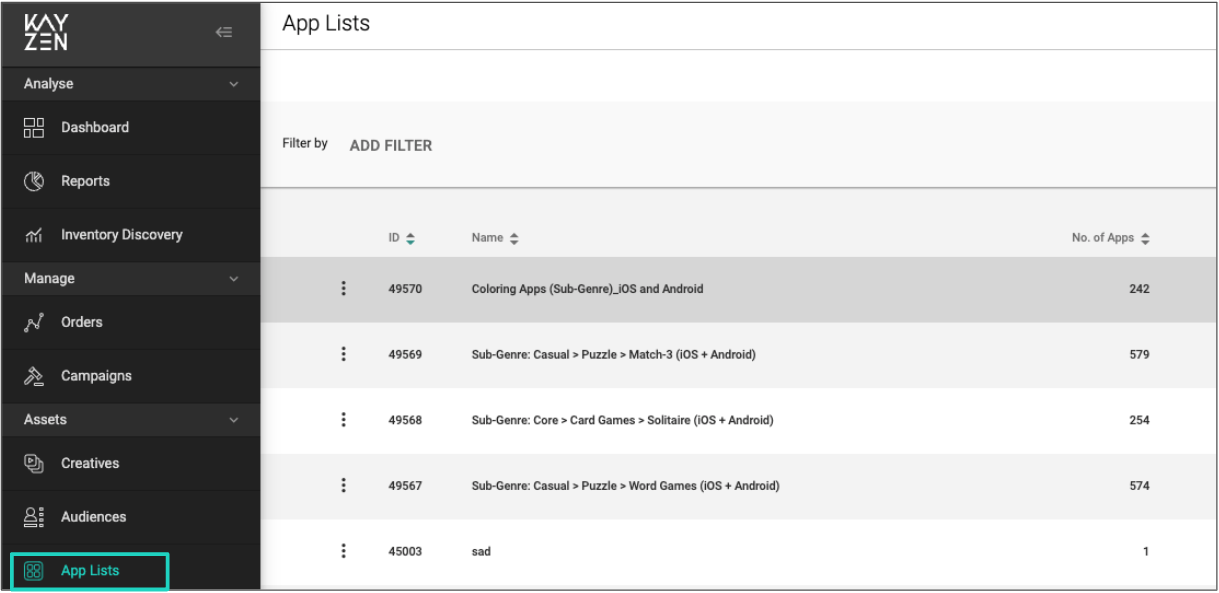 5. Returning users*
For returning users, a custom page can showcase your app's recently added functionalities. The best way to target returning users is using audience segments where you separate existing users from new users and group existing users into various subsegments. You can easily do this with Kayzen's audience module, which allows you to run such targeting strategies.
Keeping consistency with your ad campaigns with the same messages can be helpful when you want to retarget only existing app users and show them your new features.
Use case: Directing returning users to a Custom Product Page focused on new app features.
Example: A gaming app releases a new feature and directs returning users to a CPP focusing on this new app feature.

*This use case is valid for targeting "uninstallers" only.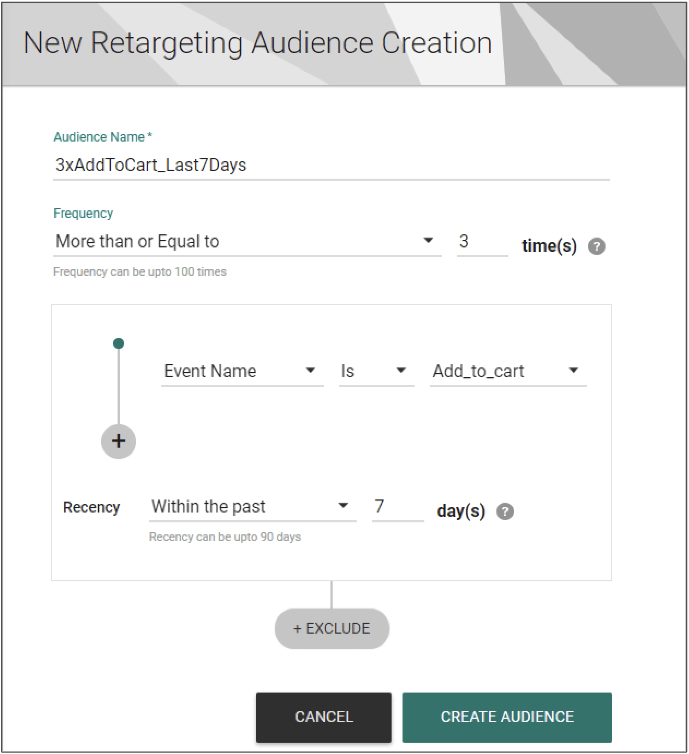 Conclusion
Custom Product Pages is an essential feature for app publishers to optimize paid campaign types and a great way to reach different audiences by adapting creatives and the entire click funnel from the ad to the download for various traffic sources.
Now that you have some ideas on leveraging CPPs using Kayzen's platform, you can add programmatic to your paid media mix and start testing them. We hope you can make the most of this opportunity and harness the full potential programmatic offers for CPPs.
If you like to learn how Kayzen can help you achieve your goals, contact us below.